You're getting less leads than you used to, less emails and phone calls and worst of all less sales and conversions. You login to your analytics dashboard and notice a drop in SEO traffic, coinciding with the decrease in inbound inquiries. Your rankings have gone down and you're freaking out because you have no idea why or what to do about it even if you did. We've created a free checklist to answer the question, "Why is my SEO traffic down?" and we're giving you pointers so that you can avoid it happening again.

Skip the why and the how of it and download the checklist now.

Table of Contents
Make Sure You Really Do Have an SEO Traffic Problem
Make sure what you're seeing is really the problem. Check your analytics and robots.txt to make certain you really are experiencing a drop in SEO traffic, rather than a coding issue.
Check Your Analytics
Your first step in analysing any loss of SEO traffic, should always be double checking your analytics platform. While you may be thinking, "of course my analytics is set up correctly", having a small issue with your analytics setup is actually quite common. Especially true if you've given someone access to your site and they've unintentionally messed up your tracking code.
It may just be that one section of your site, for example your blog, doesn't have proper tracking code placed. Visit Check My Analytics, as your first step when trying to identify any potential traffic issues, to ensure it's not simply a tracking issue, before going on to the next steps.
Check Your Robots.txt
Your robots.txt has probably been setup correctly in the past. This may have changed over the years though, especially if you're seeing a drop in SEO traffic but your traffic from other channels has remained the same.
Check your robots.txt file for "disallow: /" or any meta robots tags using noindex in the head of a page's source code. This essentially tells Google not to show your site in search result pages. If your site is crawled frequently a disallow or noindex in your robots.txt can kill rankings rapidly, however if your site isn't crawled often, then it may take days or a week before you find the problem and it starts killing your online presence.
Back to Top


It's Only a Small Drop in Traffic
If you're only experiencing a small drop in traffic you may want to consider the possibility that it could be 'normal' fluctuations in Google or that your competitors are upping their game.
Consider 'Normal' Fluctuations
It's normal for a sites rankings to fluctuate. As Google tests every single variable it can detect by changing search results it's totally normal for rankings to change from day to day, from different computers and devices and of course different locations. If your SEO agency sends you a rankings report, you could find that your rankings are different the next day, or simply don't match the rankings on your own computer exactly. So if you're only experiencing small drops and are unable to detect anything else going wrong, then you may want to consider it a part of Google's normal fluctuations.
Consider Your Competitors
Again, if you're only experiencing a small drop, you may need to consider that outside forces may be at play. It may be less about what you're doing or not doing and more about what your competition is doing. If one websites ranking goes up, another must go down. This is part of the reason why your SEO activities have to be ongoing rather than a once off job. Search engine optimisation is an eternal game of thrones. The only way to be and remain king is with continual effort. So consider your competitors when it comes to smaller drops in traffic. It may not be that Google loves you any less, they just love your competition more.
Back to Top
Algorithm Changes
One of the very first things you should consider causing a drop in your SEO traffic is an algorithm update.
Check Your Traffic Drop Against Algorithm Updates
In order to analyse whether your traffic drop was caused by an algorithm update, you'll need to check your analytics against known algorithm change dates. Panguin Tool can help you do this easily. Login using your Google Analytics account credentials, select the appropriate account, profile and view and select the correct timeframe to see if your drop in traffic matches up with any algorithm updates. A good rule of thumb for this is, if the drop in traffic is not within 3 days of an official update, your drop in traffic is likely caused by something else.
How to Minimise Your Chance of Being Affected by the Next Algorithm Update
Everyone gets anxious about algorithm updates but you shouldn't be too alarmed if you're building your site the right way. Stop trying to fool Google into thinking you have a 'natural' link profile and organic keywords. Instead, BE natural and BE organic. This means that when the next algorithm rollout happens, you'll be best placed to reap the rewards rather than having a stack of work to do to solve the issues. Follow Google Webmaster Guidelines as best practice and only engage in white hat SEO tactics to ensure you're always in compliance.
Back to Top


Migration or Redesign
If you've recently undergone a website migration or any kind of redesign, it could be affecting your SEO traffic, even if you've setup everything correctly.
You've got a New Website
Regardless of what you do to prepare for your new website launch, launching a new design for an existing website will more than likely cause a drop in rankings. It doesn't matter how much better this new website is in terms of SEO than the old one either, you will experience a drop, however temporarily. An initial decrease typically seen caused by this scenario as Google re-evaluates your website is 3% – 5%. Any higher than that and you should consider that something else is to blame for your minimised traffic. To minimise this drop, ensure that a proper 301 redirect plan is in place and of course make sure your new website is optimised prior to launch. Expect your rankings to recover within 2 months if everything has been setup correctly.
Your New Website isn't New Anymore
Generally speaking, you will experience a drop when launching a redesigned website in place of an old one. However, after this initial drop, your traffic may come back even better than before, of course this is the whole point of a website redesign but you can also expect your new websites ranking to drop yet again after the initial boost in rankings as Google often favours the new over the old. Be patient and keep up with SEO best practices.
You Switched to a Bad Host
If you've recently switched hosts, you'll need to consider the possibility that you made the wrong move if the switch coincides with a loss of traffic. If you've switched to a low quality hosting company or one whose data centre isn't in an ideal location to give your users fast page loads, you may be providing a bad user experience, which tells Google to rank your site lower. Make sure your users are given a great site experience with super short loading times by hosting near the majority of your visitors and paying to have your site on a server that isn't providing service to another 5,000 websites and getting held up.
Your Site Hasn't Been Set Up Correctly
It could ultimately just be that your redesign or new website has not been setup correctly with good SEO integrated into the complete design, appropriate 301 redirects, copy change and new site architecture or certain pages were deleted.
SEO integration into your new website needs to coincide with planning. SEO should not be implemented after the website redesign but should be included throughout the whole process. In order to find out what change have negatively affected traffic, look through logs in your CMS to determine if any major changes coincide with your traffic drop. Also interface with the client to determine where things have gone wrong as well as using Top Content page in Google Analytics to research old popular content that's not performing well anymore.
Back to Top
Content
"Content is king". Cliche….but very true. It's a massive component of SEO and if your content is not optimised correctly or satisfying searcher intent, it could be outranked by a more thorough piece of content in your niche, negatively affecting your traffic.
Your Content is Old
It doesn't take a genius to work out that Google prefers fresh, new content to stale old pages. The traffic coming to your website will decline if not regularly updated with fresh content. If you're experiencing a traffic drop, consider how outdated your content is. If it's too old, it's probably lost relevance and thus visits. New content is always best but by updating your old content you can boost your traffic to those pages.
You've got Duplicate Content
Duplicate content is an all too common issue when researching SEO problems. Much of the time, when a subdomain is created, so too is duplicate content. One way to fix this is by using a rel=canonical url on your root domain and adding "noindex" to your subdomain pages. This will save you from Panda penalties and future penalties. Of course, duplicate content isn't just an internal issue, it's also a big issue if you're posting duplicate content externally. Ensure all of your content is unique in order to not incur traffic and rankings issues due to duplicate content.
Your Title Tags and Meta Descriptions Aren't Optimised
You need to create unique, informative and interesting title tags and meta descriptions for your pages. If you have duplicate title tags you will damage your page rank as well as turn visitors away. While they may not directly affect your ranking they do assist SEO and can attract or turn away users depending on how well or poorly they're written.
Create relevant meta descriptions and title tags to increase your click-through rate. Google tracks your click-through rates so if it finds that your click-through rate is low for the position you're ranking, your position will drop.
Back to Top


Keywords
Another reason your traffic may have taken a hit are the keywords you've been using. You keyword strategy may be outdated or you may be over optimising your content.
Your Keyword Strategy is Outdated
There's been a continual shift towards more natural language when it comes to searches. Users are increasingly typing more complete sentences when performing a search than just keywords. Therefore if you're only tracking generic keywords, your keyword strategy is outdated and could be the reason your traffic is plummeting. In order to see if specific keywords have decreased your traffic, in Google Analytics click on secondary dimension, expand traffic sources and select keyword. When analysing whether a keyword has taken a big hit, be sure to factor in the migration of traffic that used to be reported to "not provided".
You're Over Optimising
Whether your entire site or just certain pages have been hit by a drop in traffic, you may consider whether your on-page SEO is actually over optimised. If your keyword phrases are appearing too often and too prominently on any given page, then you're probably guilty of over optimising your content. Over optimised anchor text on external links is usually the main culprit when it comes to a reduction in SEO traffic, due to over optimisation. Google's Penguin algorithm update hit over optimised anchor text hard.
You'll need to get links removed or disavowed for particular keywords. Check out your website using Open Site Explorer and select the Anchor Text tab, select all pages on this root domain to spot over optimised anchor text issues.
Back to Top
Links
When your rankings drop, one of the first things people think about is linkbuilding. Make sure you have a natural link profile and you haven't lost any good links.
You've got Broken Links
The most common reason to incur a broken link, is that the linking website or page doesn't exist anymore. Having broken links on your website will negatively affect your page rankings, so you should be regularly checking for broken links. If found, the links should be fixed or removed as soon as possible.
If the broken link is an internal link then you'll need to set up a 301 redirect to direct traffic to another relevant page on your site so that visitors and robots do not experience an error.
You Have an Unnatural Link Profile
If you consider linkbuilding to be your number one priority, it's likely you've been engaging in a linkbuilding strategy that Google finds questionable. To avoid Google's wrath, especially in the next algorithm change, you'll have to do SEO the long and difficult way, rather than taking shortcuts. Don't simply try to build a natural link profile, BE natural and Google will reward you for it.
You Have Too Many Low Quality Links
If you have too many low quality and/or spammy links pointing to your site you'll likely be affected by it, and quite badly. Search engines are continually updating their algorithms in order to combat what they see as 'search engine spamming'.
This means that websites with a lot of low quality sites pointing to them will and have seen significant drops in rankings. If your site is being negatively affected by this, Google has stated, "You should… make every effort to clean up unnatural links pointing to your site." And as a last resort you can disavow those links.
You've Lost Good Links
A significant drop in rankings could indicate losing high quality links. If link(s) to your website are removed by high ranking or authority sites, you'll likely see a drop in SEO traffic. There's not a whole lot you can do about this other than contacting the website owner/editor and asking for the link(s) to be put back up.
This is more successfully done if you can update the linked to content before asking. The only real way to minimise the damage caused by this happening is to continually be building links naturally by creating unique, high quality, informative content.
Back to Top


Other Factors to Consider
While the above are some of the first issues to consider and address when trying to solve your SEO traffic woes, there are numerous reasons you may be experiencing an SEO traffic drop.
Outsourcing
If you're outsourcing your SEO and you're experiencing a traffic drop for unknown reasons, you'll need to consider who you've hired and what tactics and strategies they've been implementing.
Of course you'll still need to consider all of the above reasons for your drop in SEO traffic but you'll also want to conduct an audit of your SEO teams work to ensure they're following best SEO practices. Be careful outsourcing SEO and read our tips on How to Choose an SEO Agency to find the right team for your business.
Site Speed
Google has taken site speed into account since 2010, so there's no excuse not to have a speedy website. When Google ranks slow loading websites users have a bad experience and therefore use Google less, resulting in Google providing a less than ideal user experience to it's own customers.
Of course what this means for you, is in order to rank well, it's absolutely essential to have a fast loading site. Your first step should be a test using Google Page Speed, to see what is required to increase your site speed.
Mobile
In order to rank well, your website needs to be optimised for both desktop and mobile views. Your website needs to be compatible with all devices. In order to provide a good user experience on mobile you need to have a fast loading website, which we talked about above. You'll also need a good responsive design, so that no matter what device someone is using to view your website, your design will adapt to it.
Social
There's been a lot of talk about whether social shares impact rankings. Whether you think social shares influence SEO or not, there's strong evidence that pages can rank without links and that pages with more social shares outperform those without social shares or engagements. Either way, the more social shares a page has, the more traffic it generates.
And of course, the more visits a site gets, the higher chance there is of someone linking back to it… naturally. This means higher rankings for your site, so either way social shares are an important factor.
Back to Top
Conclusion
If you've gone through all of the above and are still struggling to find the reason why you're experiencing a drop in SEO traffic, or you've been hit hard by a recent major algorithm update then you may need to get professional help. Contact us for a no strings attached call to discuss your traffic drop in more detail.
Back to Top
Download Checklist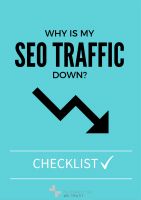 Download our handy checklist to make sure your website is using SEO best practices. Our checklist will help you discover why your SEO traffic is down.